Prof. Dr. Mahmoud El-Metini, President of Ain Shams University, inspected one of the stages of training in the Smart Classroom at the Faculty of Engineering at Ain Shams University, which is the fruits of cooperation between three Chinese sides and Ain Shams University, and these three entities are the International Center for Innovation in Higher Education under the auspices of UNESCO-ICHEI, South University of Science and Technology (SUSTech), Shenzhen City, People's Republic of China, Weidong Cloud Education Group (Weidong).
The President of the University was accompanied by Dr. Abdel-Fattah Saud, Vice-President of the University for Education and Student Affairs, Dr. Diaa Khalil, Acting Dean of the Faculty of Engineering, Dr. Omar Al-Husseini, Vice-President for Community Service and Environmental Development Affairs, and Dr. Mustafa Refaat, Director of Credit Hours Programs, Prof. Dr. Mona Abdel-Al, Director of the Education Development Center and Dr. Sameh Ibrahim, Director of the Smart Classroom Project, and lectured in this training, Kevin, and Director of External Projects at Weidong Cloud Education Group, and Hassan Adel Shehzad, Principal Technical Director for Smart Classes at the International Center for Innovation in Higher Education under Sponsorship of UNESCO.
The project aims to record the lectures for broadcast directly on the university's website allowing students to attend the lectures from anywhere through a computer connected to the Internet, and keep the recorded lectures so that students can hear the lectures at a later time, and create a software group that allows to make interactive lessons that can be used in Smart separation, as well as the possibility of using smart separation to broadcast the discussions of master's and doctoral theses, which allows one of the members of the Judging Committee to be outside Egypt.
The President of the University also examined the exams and the control, and stressed the necessity of providing all means of comfort in the examination halls to perform the students 'exams, the presence of professors and observers to solve any problem that arises during the exam period, and urged the students to trust themselves, stressing that the university has taken a package of necessary measures and measures to create the right climate and provide all logistical services for students.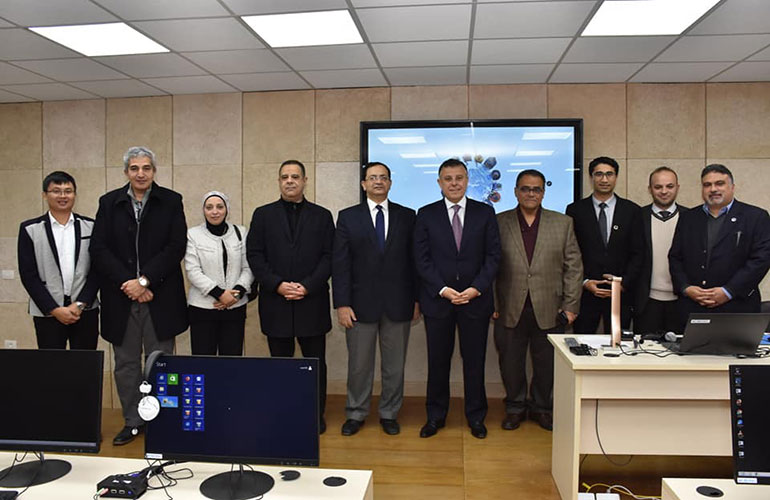 Dr. Diaa Khalil, Acting Dean of the Faculty of Engineering, said that the exams for the first semester are taking place quietly since its inception, and that no obstacles or problems have been monitored.